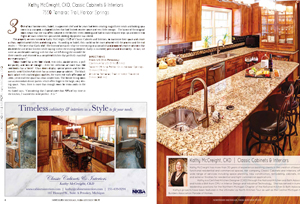 I am proud to once again have my work featured in the NKBA Kitchen Tour. This year the tour takes place on October 17 from 9am-5pm and tickets can be purchased in my studio or at any of the kitchens on the day of the tour.

I am pleased to be displaying the work I did at the residence of Isabel Colley. The Colleys turned to Classic Cabinets and Interiors, to maximize their space and create a clean, sophisticated kitchen and dining area. According to Isabel, they could not be more pleased with the process and the end results -- "We love what Kathy did! She listened to exactly what we were trying to accomplish and proposed creative solutions that doubled the size of our kitchen while staying within the existing footprint."
Read more about The Colleys kitchen in the Northern Michigan, NKBA Kitchen Tour Publication
---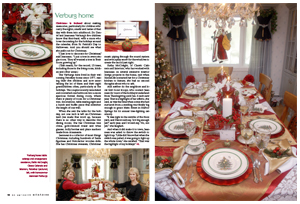 Kathy McCreight, of Classic Cabinets and Interiors, who has worked with Jeannean Verberg on several extensive interior design projects in the home, said when HomeLife contacted her for a Christmas kitchen to feature, she had no second thoughts about who to ask.
Read about Jeannean's Christmas interiors in Home Life Magazine. 
---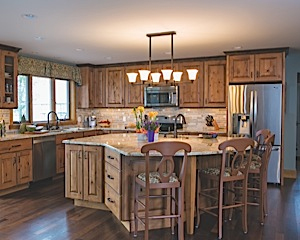 Designer Kathy McCreight's mission in this kitchen in a family cottage on Burt Lake was twofold. First she updated the 1970s-era kitchen while preserving the rustic spirit of the rest of the cottage.
2013 Ultimate Up North Kitchen Tour, Rustic Spirit in Brutus 
---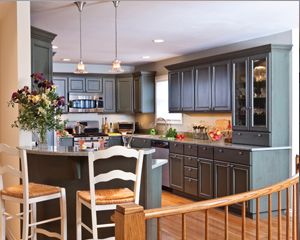 East Jordan, Michigan, Mullin Ferry's End, by Kathy McCreight: A relaxed kitchen with sophisticated touches including twin 4-foot-tall glass-paned cabinet hutches that mirror each other across the room.
2011 Ultimate Up North Kitchen Tour, Happy Hour Redo on Lake Charlevoix
---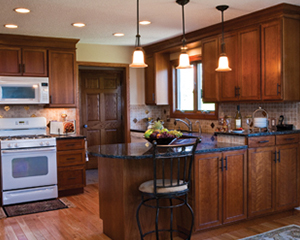 "Remember kitchen cabinets aren't just for kitchens. They can be used in offices, bedrooms, closets, laundry areas, entertainment/TV centers, garages, wherever your imagination takes you.  Let a design professional show you how." –Kathy McCreight, CKD, Classic Cabinets & Interiors, Petoskey, MI
2009 Ultimate Up North Kitchen Tour, Kitchen Designers Share Tips for Designing Your Dream Kitchen