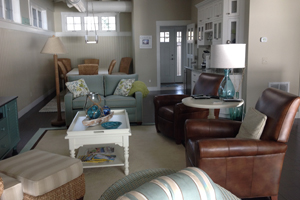 Kathy McCreight was the glue that held our remodeling project together. We hired her for assistance with the project post-commencement on the recommendation of our builder. Trying to manage a large project with a builder from long distance was not efficient and things would have dragged on and on without her – she jumped in, helped manage the entire project and was our savior!

Kathy is very organized and goes far beyond just interior design. She was consistently present on the job site and had an amazing ability to pull "rabbits" out of her hat to solve challenges large or small. She stayed on top of what the trades people were doing, was able to work directly with them and understood the build process from start to finish. Kathy also lightened our load significantly by doing research, presenting outstanding ideas and options, and working with us to make final decisions for the many products we needed to order. Bottom line, Kathy sets herself apart from other designers because she has the ability to own the entire project rather than just the design process.

Kathy also has a wonderful ability to tailor her approach to different personality types. There were four owners involved on our project and she managed all of us with grace and ease. Kathy went above and beyond what any of us would have expected. She accommodated our schedule by working with us in the evenings and since we live out of the area, she even met with us on weekends when we were able to get up to the lake.


While Kathy is effective and efficient, she is also extremely talented as a designer. Her creativity is second to none and her network is superior. We were all thrilled with the finished project and plan to work with her on other projects.

DIANE BURNS
---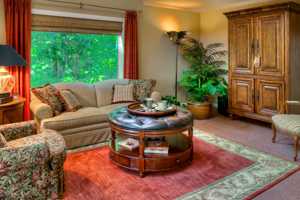 Working with Kathy McCreight over the years has been a true pleasure. Kathy is creative to the core and I love that her designs are uniquely layered, making my rooms look like it has evolved over time. She is adept at infusing your personal touches into the project and working within your alloted space and budget. We have been so pleased with the finished product Kathy delivers that we have worked with her on our bonus room, basement, three bathrooms and living room.
Kathy is a joyful soul with a warm way about her and yet she is incredibly technical with a critical eye for details – nothing escapes her radar. Kathy can work within any style, and is always open to suggestions. Whenever she is working on a project, her wheels are turning and she is making small tweaks that greatly impact the functionality and beauty of the space.
On numerous occasions Kathy has drawn me out of my preconceived vision and the end result has been better than I could have imagined. As an added bonus, Kathy has a knack for finding new lives for objects that are no longer needed. Her ability to re-purpose, recycle and up-cycle is amazing! In fact, Kathy found homes for the cabinets that were being removed from our home – we were so pleased to be keeping them out of a landfill.
When working with Kathy, you can always count on a project being completed on time. Kathy made sure that she always kept me in the loop and her support staff was always up to date on my projects and prepared to answer any questions I may have. There was never any delay in obtaining information.
One of my favorite projects was working with Kathy on our bonus room. We needed an office and guest area. Honestly, we were probably trying to do too much with the space but we needed it to be multi functional. Kathy evolved the space layer upon layer – we now have a really fun space that meets all of our needs.
JULIE LINEHAN
---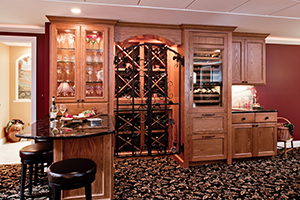 I want to make sure that I say the right things to convey that Kathy McCreight is outstanding!
Kathy has an amazing gift for making sure that each home she works on is unique. She really understands her client's personality and through her design their individuality comes through. It is truly remarkable working with her; her mind is so full of ideas and her creativity extends to the smallest details. We have found that with Kathy, everything is possible. It's amazing, she can create space you didn't even think you had!
With Kathy's network, she can make anything happen. For example, we had run out of wallpaper and I still wanted to wallpaper the bathroom. Without missing a beat, Kathy had her faux painters at my house and I still marvel at their talent – no one can tell where the wallpaper stops and the paint begins.
Kathy always has time for her clients and ensures that the project is completed down to the very last detail. She is so fun and accommodating, I truly love working with Kathy McCreight!
JEANNEAN VERBURG
---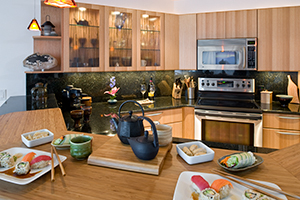 Kathy and I have worked together for over twenty years and have completed more than forty projects together. Kathy has a wealth of industry knowledge, her creativity is second to none, and her follow-through and communication skills are impeccable. She is down-to-earth, trustworthy, patient, and never hesitates to go the extra mile. I appreciate that Kathy is open to input from me and that we really work together as a team – builder, designer and client – something that is not common in our industry.
When working with Kathy on a project I know that we will be delivering a unique solution that perfectly meets the client's needs and that nothing will be left undone, everything is flawless.
BRAD KESSLER
---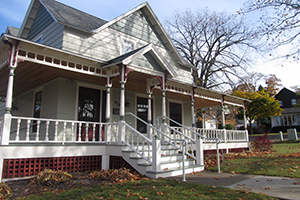 Kathy McCreight has been McBride Construction Inc.'s professional kitchen and bath designer of choice for over 20 years. She is professional, detail oriented and delivers high-end, quality results on-time, every time.
Working with Kathy in fact, makes the entire project easier. Kathy has a unique gift to be able to streamline the project and communicate in a way that everyone understands; clients, contractors and subcontractors. Our clients love her ability to make the process palatable and her end results are second to none. In fact, I am so pleased with her work that my wife and I had her design our own kitchen.
DAVE McBRIDE, CGR, CGB, CGP, CAPS
---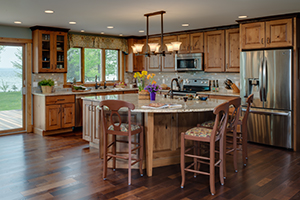 I have worked with Kathy on numerous projects large and small since the early 1990s. I involve Kathy in the initial site planning and she stays with the project all the way through to selecting paint colors and furniture – she even helps me hang pictures.
Kathy invested time getting to know my tastes, and with each project we discuss what we are trying to achieve. She then uses her expertise to make everything look beautiful, flow well and delivers results that surpass my expectations. I am always very involved in making decisions regarding my home but I am able to lean on Kathy for input.
Kathy takes the stress and pressure out of the building or remodeling process and makes it possible for me to enjoy the experience. She handles all of the logistics, keeps track of details and delivers projects on-time. I always get more than I bargained for when working with Kathy and recommend her 100%.
DR. PEGGY BRAZONES 
---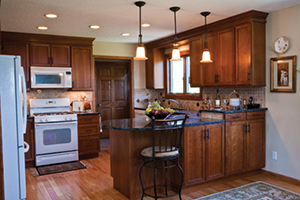 At the time, we had lived in our home for twenty seven years and loved its' proximity to town and the space it had for our family to gather, but we wanted a larger, open kitchen/dining room area. We called on Kathy, who is incredibly knowledgeable and detail oriented, to come up with a design to make the most of what we had. Kathy presented a plan to remove a wall and add a large peninsula between the kitchen and dining room. We still love the new kitchen and open space today. 
Additionally, last fall our dishwasher leaked and ruined the hard wood floor in the kitchen. Kathy sprang into action, pulled out our file and helped us beautifully navigate the repair job. She made sure the granite was flawlessly removed, the cabinets fixed, the leak repaired, and that it was all put back together. We are so grateful for her support. 
CAROLYN WHITTLE
---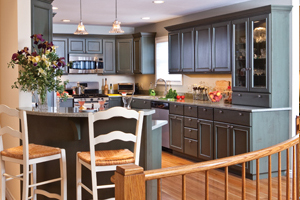 Kathy McCreight is confident in her abilities and yet not pushy. She is a wonderful listener and "hears" what we want to accomplish and then delivers results that exceed our expectations. With every project we've worked on, we knew that she would handle all of the details and that everything would go off without a hitch. Working with Kathy is a pleasure
JANE MULLIN